A History Of Excellence
Since its inception in 1995, Chustz Surveying, LLC has continued to grow through hard work and client satisfaction.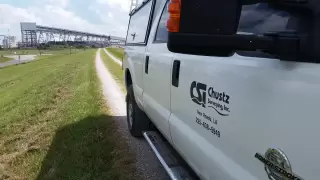 We began by providing surveying and mapping services as a sub contractor on a New Orleans District Project with only a pickup truck and a single boat. From that point on, we have invested in the most knowledgeable and qualified employees, along with state-of-the-art technology in order to assure the highest caliber of service. This has allowed us to expand into other surveying areas, including hydrographic surveying, GPS surveying, singlebeam technology, multibeam technology and LiDAR (Light Detection And Ranging) acquisition. Our employees are cross-trained to ensure a solid and continuous work process, as well as superior quality control throughout each phase of our projects. Their tested experience and new ideas keep our company at the forefront of the surveying industry.

Regardless of the scope of the project, we have the necessary workforce and the technology to get the job done.
We are involved in an array of projects for our various clienteles, including the Corps of Engineers, the Louisiana Department of Natural Resources, the Louisiana Department of Transportation, private engineering firms, and the general public.