We get the job done right.
Chustz Surveying, LLC stands apart from other surveying companies in many ways, one of which is we own all the equipment and technology required to get the job done right. We are constantly outfitting new survey vessels in order to ensure your project is never short staffed, be it for day-to-day surveying or to answer more urgent needs, such as the case of a potential natural disaster. All of our survey vessels are equipped with the tools necessary to provide high-resolution bathymetric maps of the seabed or waterways.
Knowing quality is key to a valuable survey, which is why we plan and check our surveys using only our certified professionals.
Marine Construction
Dredging
Singlebeam
Multibeam
Bathymetric Charts
Our experience includes hydrographic surveying on major and minor waterways.
We use a variety of processes and resources in order to best address the scope of your project. This versatility allows us to meet the needs of any job, large or small.

Our Fleet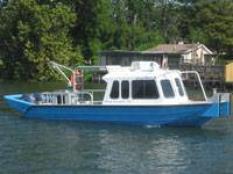 M/V Cindy Marié is the latest addition to the Chustz Surveying Fleet. Joining the fleet in the summer of 2010 the boat is a 28'-6" LOA survey platform for both inland and coastal waterway use. This boat was designed and custom built to CSI's direct specifications as a survey vessel conforming to all of the requirements of the most current hydrographic survey standards. The frame structure complies with USCG 33 CFR S...